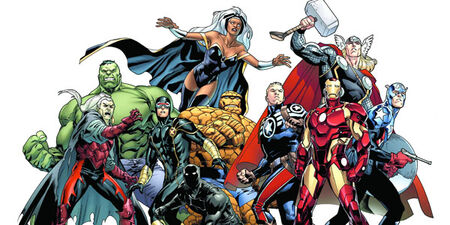 Marvel Universe - The New 52 is a reboot to the Marvel Comics it started in 2013 and follows the Hulkpoint story.It is an amalgamation of the Marvel Universe and the New 52.
Titles and The Characters
Edit
The Avengers
Hawkeye
Iron Man
New Avengers
West Coast Avengers
Daredevil
Young Avengers
Next Avengers
Hulk
A-Bomb
Red Hulk
She-Hulk
Skaar
Grey Hulk
Spider-Man
Edit
Spider-Man
Black Cat
Scarlet Spider
Green Goblin
Peter Parker
Richard Parker
Uncanny X-Men
 Wolverine the Hunter
Deadpool
X-Force
Wolverine and the X-Men
X-Men First Class
X-Men The Last Stand
Captain America
Edit
Bucky Barnes
Black Widow
USAgent
Agent 13
Falcon
Fantastic Four
Guardians of the Galaxy
Moon Knight
Ad blocker interference detected!
Wikia is a free-to-use site that makes money from advertising. We have a modified experience for viewers using ad blockers

Wikia is not accessible if you've made further modifications. Remove the custom ad blocker rule(s) and the page will load as expected.